Individual and Family Counselling
and Art Therapy Services Free 30 Minute Consultation Provided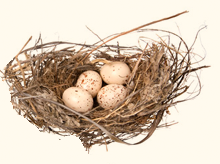 Many people require support from a counsellor at some point in their lives. Hopefully, this experience is one that creates opportunities to learn and grow. I have committed many years of my life to supporting individuals and families with those opportunities and have witnessed countless healing journeys.
The bird's nest is a powerful metaphor for the counselling relationship that I have adopted as my own. It is a place where journeys begin. It is a safe place to develop but it is not a permanent place to remain.
ADDICTION SUPPORT
Assistance to learn new behaviours and address underlying concerns
Identify alternative
coping skills
Collaborative and client centred approach
MENTAL HEALTH
Support for depression and anxiety
Problem solving and stress management
Family of origin issues
Skill building in assertiveness, feeling management
SEPARATION/DIVORCE
Support for children
and families adjusting
to change and blended family situations
Addressing issues
related to grief and loss
Empowering children to express their emotions
UNIQUE POPULATIONS
Support for individuals living with ASD
Support for individuals living with Fetal Alcohol Spectrum Disorder
Support for individuals living with Cognitive /
Global delay
GRIEF AND LOSS
Bereavement support for individuals and families
Support for complicated grief and sudden loss
Counselling and Art Therapy for Midland, Barrie, and Simcoe County
2238 Old Fort Road, Midland Ontario L4R 4K3